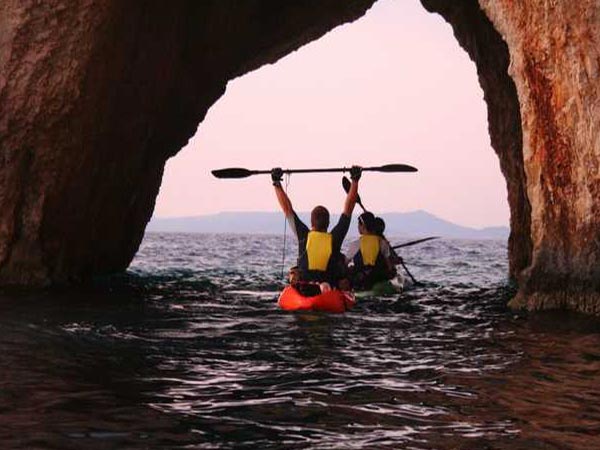 Explore the Blue Caves
Explore the Blue Caves of Zakynthos and snorkel in crystal bright blue waters.
Sea Kayak is the best way to visit the remote beaches and sea caves of Zakynthos.
The whole trip takes 4 hours.
We pick you up around 8.00 (it depends on where you are accommodated) in order to be at St. Nicholas Bay around 9.00.
Then we move on to slowly paddle for about an hour. You don't have to worry about holding the pace, our special sea kayaks are very comfortable and formed in such way that can be used even by people that have not been excersising at all.
After that we stop for rest and snorkeling for about 1.30 hour. Snorkeling takes place in the caves and reefs, full of mediteranian fish life.
Finally, we start paddling back, taking a route that goes through many different caves. The way back its much easier since it involves a lot of stops.
The whole trip finishes around 1.30pm so at about 2.30 you are back at the hotel.
Our basic principle is to have fun, always keeping safety first.
During the trip we provide snorkeling gear, a few bottles of water and some local light snacks (pasteli).